Did you know DISC certifications are not all the same?
DISC certification is, generally speaking, the process of training facilitators and coaches to deliver DISC tools more effectively. However, certifications are not all the same because DISC tools are not all the same.
One model; different tools

While all DISC assessments are theoretically based on the DISC Model, they don't necessarily measure the same thing. The Extended DISC® behavioral tool focuses on your hard-wired natural style. It helps you identify and predict your most comfortable way of doing things; how you prefer to lead, communicate, etc. It describes how you tend to naturally show up and appear when you're not adjusting your behaviors. Knowing your behavioral baseline guides you in making better decisions; knowing when to rely on your behavioral strengths, developing yourself further, and adjusting to better suit your environment.
The Extended DISC® assessment is designed to be intuitive and easy to understand, without prior training or certification. However, becoming certified enables you to access a deeper level of results interpretation, as well as provide additional options and resources to your clients.
What is certification?
Certification is a valuable option for those interested in delivering Extended DISC effectively to clients and employees. Time is a precious commodity these days; therefore, you choose the certification option that works best for your learning style and schedule. The options include virtual, group, one-on-one, and onsite. Typically, certification is divided into two sessions; however, flexible scheduling can be made to accommodate your specific needs. Upon completion, you are officially certified in the use of Extended DISC® individual, work pair, and team assessment tools.
Prior to your session, you are able to establish a relationship with a senior trainer. They work with you to design the certification session to meet your specific application and training needs. In addition, you have ongoing support. You can reach out to your trainer to help you get started delivering DISC and any additional support later on.
Certification resources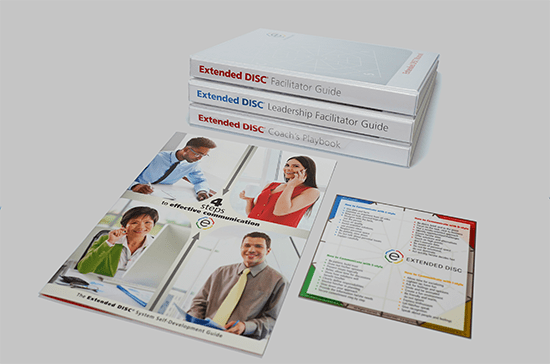 The certification training includes the option of the Extended DISC® Starter Kit. It includes:
Your choice of the standard Facilitator Guide or Facilitator Guide: Leadership. Each guide is a template to leading group DISC sessions.
The Coach's Playbook is a comprehensive reference on how to debrief results with an individual.
Your copy of the Self-development Guide. It is an easy to use workbook to reinforce and apply learning based on the 4 Steps to Effective Interactions. It can your facilitator reference resource or purchased to use as a participant guide for your DISC sessions.
A sample of the Quick-Reference Card. This colorful and simple resource provides a brief overview and communication tips for each DISC style. They make a great post-session take away to help participants apply DISC to their real-world.
Why certify?
You do not need to be certified to use Extended DISC® Assessments. However, certification enables you to fully support participants in better understanding their results in deeper and more diverse ways.
One of the best parts of certification is learning how to interpret the Extended DISC® Profiles and understand the validity of the results. You will also learn how to read if there are underlying feelings associated within the results. In addition, you learn how to manage and use the Profile data beyond the reports; helping clients and employees make better decisions, not only for themselves, but also for their teams and organizations.
You gain more knowledge, confidence, and insight to help clients interpret their results. In the end, you are helping your clients apply their results to reach their goals and achieve greater success.
Additional benefits of certification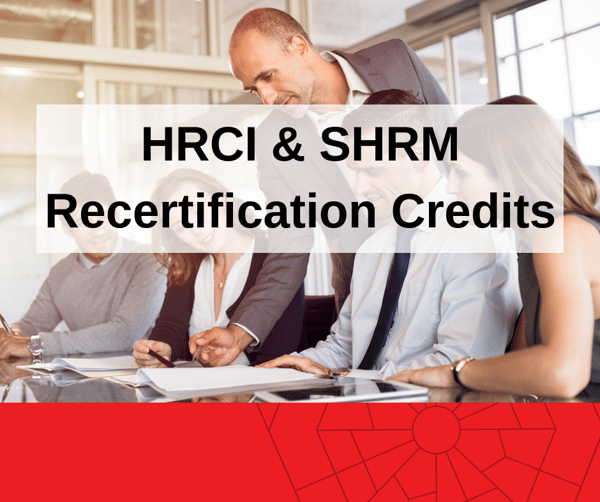 You will learn how Extended DISC® assessments can be customized to your unique needs and applications. You will become familiar with the vast library of Extended DISC® reports; all of which are designed to resonate with different types of clients. For example, leaders and sales people have targeted reports, as well as athletes and customer service reps. There are reports designed to assist in the hiring process, as well as reinforcement reports to help with continuous learning and taking DISC to the next level.
Certification provides you access to a vast wealth of resources and support. Trainers and customer support staff are available to manage your administrative and training questions. Support materials, including an online client resource site, are available to provide you the resources to build the best training sessions possible.
Participants can also earn between 5 and 15 recertification units for HRCI and SHRM credentials.
Best of all, you are an Extended DISC® Certified Trainer for the entire course of your work life. The certification belongs to you and goes wherever your career path takes you.
Are you ready to become certified?