We are introducing two new sales assessments. Don't wait! Be among the first to preview our Sales Competence Assessment and our FinxS® Sales 18 Assessment.
Most sales managers are unhappy with the performance of their sales team. Many sales professionals are frustrated because they're unclear about how to become more successful. What if you could identify the DNA of exceptional sales performance using our brand new sales assessments?
What Makes These Sales Assessments Different?
We currently offer several sales assessments based on DISC, which are among our most widely used DISC tools. They include the Sales Professional Assessment, which focuses on the development of the salesperson based on their DISC style. Salespeople can learn to adjust their DISC styles and use their strengths to sell better. We also offer the Sales Assessment for the Manager so managers can learn how to better lead, motivate and communicate with their individual salespeople. In addition, we have the Sales Team Assessment, also known as the Manager's Playbook. Managers can better understand how to be an effective leader of their sales teams.
The salesperson simply takes the online DISC assessment one time, also known as a DISC test, to generate any DISC sales report. This highly validated DISC tool has been around for decades and continues to be a valuable communication and sales development tool. Now we have the new Sales Competence Assessment, which focuses on improving a person's sales skills. The new competence report can be used by itself or with the FinxS® Sales 18 report, also based on DISC.
New Sales Assessments Focus on Sales Skills Development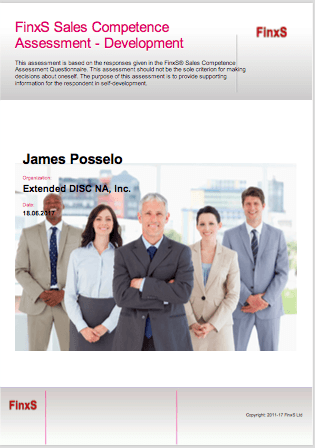 Our new sales assessments focus on a person's sales skills rather than on their DISC profile. The Sales Competence Assessment provides clear and intuitive results to create a road map to sales success. Salespeople can identify their strengths and weaknesses in 18 key sales competences. This assessment focuses on a salesperson's development, in order to improve and sharpen their sales skills. The assessment is designed for people who already have at least some sales experience. It reflects their current level of competence, which means they can develop skills in any or all of the 18 sales competences with training and coaching.
The main purpose of the Sales Competence Assessment is to help clients to increase sales. Coaches and managers find it intuitive and easy to use. This new report requires less training to master than DISC reports, but also builds in the need to have coaching to progress forward. The role of the sales coach or manager is important.
Coaches and managers can also use the report to measure progress since the results reflect the salesperson's current sales skills. As they develop, the results will vary, so progress can be measured. The tool also predicts the salesperson's success.
The Sales Competence Questionnaire
The Sales Competence questionnaire has 99 questions and is different from the DISC questionnaire. However, the process for completing the two assessments is the same. Both are done online on the same online platform but both require a unique access code. The Sales Competence questionnaire takes 20-30 minutes to complete. The results are generated immediately.
What are the 18 Sales Competences?
The 18 sales competences measured are critical sales skills for selling success. Each of the 18 skills are clearly defined in the report. They are all vital to successful selling, but depending on the sales role, some may have more importance than others. For example, prospecting may be more vital to an outside sales role versus an inside sales role. The inside salesperson may not need to prospect as much because they are provided with leads. Here are the 18 sales competences: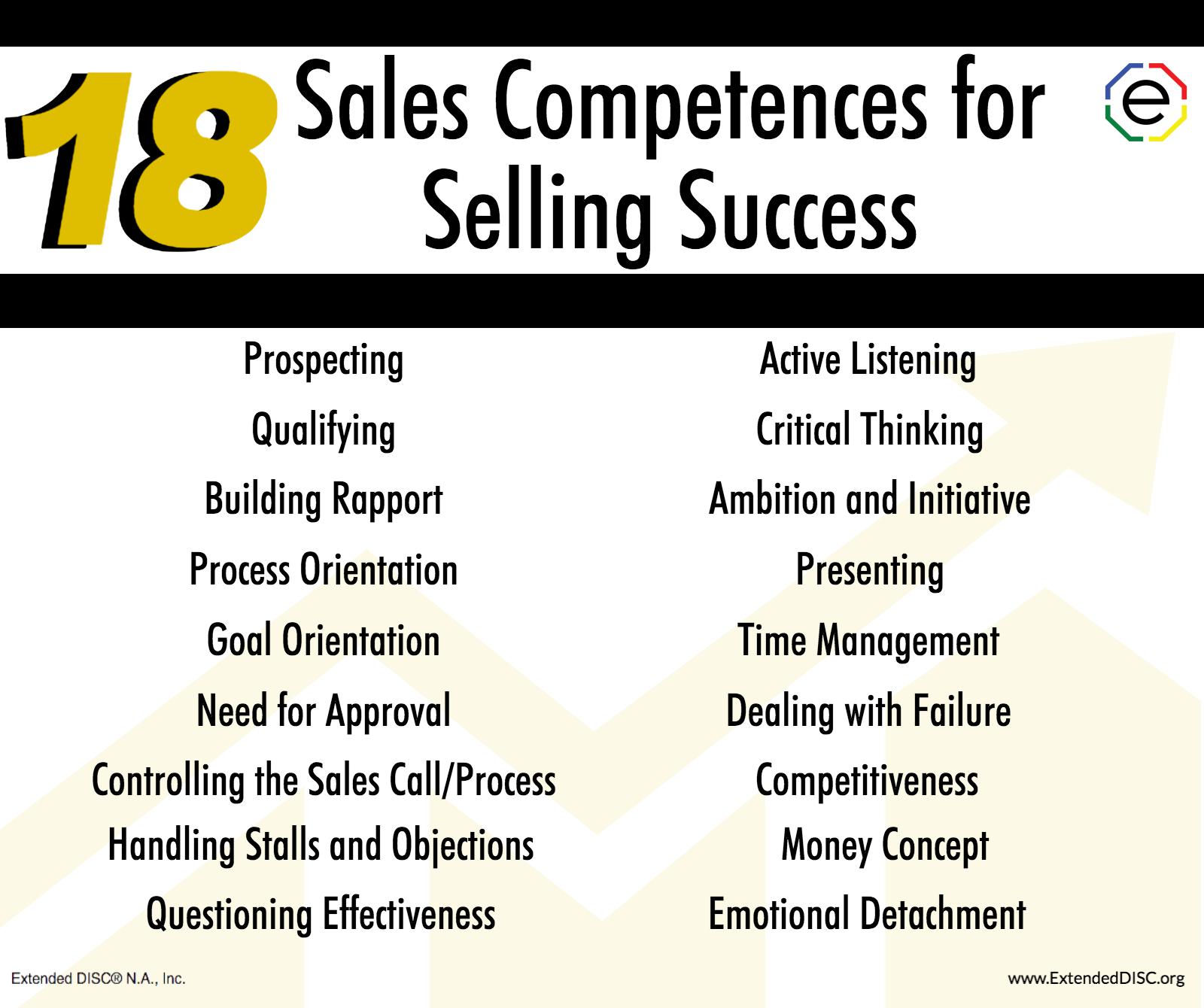 18 Sales Competences Highlights in the Report
The Executive Summary page highlights a salesperson's overall scores for the 18 sales competences. They are based on the responses to the Sales Competence Questionnaire. Coaches and managers can get a quick and concise picture of a salesperson's overall skill levels. The lower the score, the lower the competence level. The higher the score, the higher the competence level. It is easy to interpret and provides the big picture. The 18 skills only reflect a person's current skill level. Remember, these skills can be developed.
The Individual Scores section is a further break down of the 18 competences. You are able to see the detailed score for each skill. For example, if a salesperson's Prospecting score is 10%, then he is someone who is less likely to call on prospects. He prefers to wait for prospects to show up and will focus more on current clients to generate business. If a salesperson scores high on the skill, then she is on the other end of the scale for Prospecting. She is a "hunter"; someone who pursues prospects and takes charge of finding and creating sales opportunities.
Development Plan Highlights in the Report
Now that the salesperson knows the levels of their sales competences, they can begin to develop an action plan. They can use the information provided in the Development Plan section to create a road map to building and honing their sales skills. The Development Plan section takes the 18 Competences, defines each, and describes how the salesperson currently tends to perform each of the 18 sales skills. Next, there are specific steps for improving each skill.
There is one page per competence, and hence, there are 18 Development Plans. The sales manager or sales coach can easily use these concrete steps to help the person improve each skill.
In addition, there are specific questions for the salesperson. The questions can be used for self-reflection or by the sales coach or manager to help in the development. They are based on the respondent's unique scores for the 18 skills.
What Are Mindsets?
Mindsets are building blocks of the 18 sales competences for selling success. There are 12 different Mindsets. They are like basic instincts or survival mechanism. They are the way a person approaches problem solving and overcoming challenges.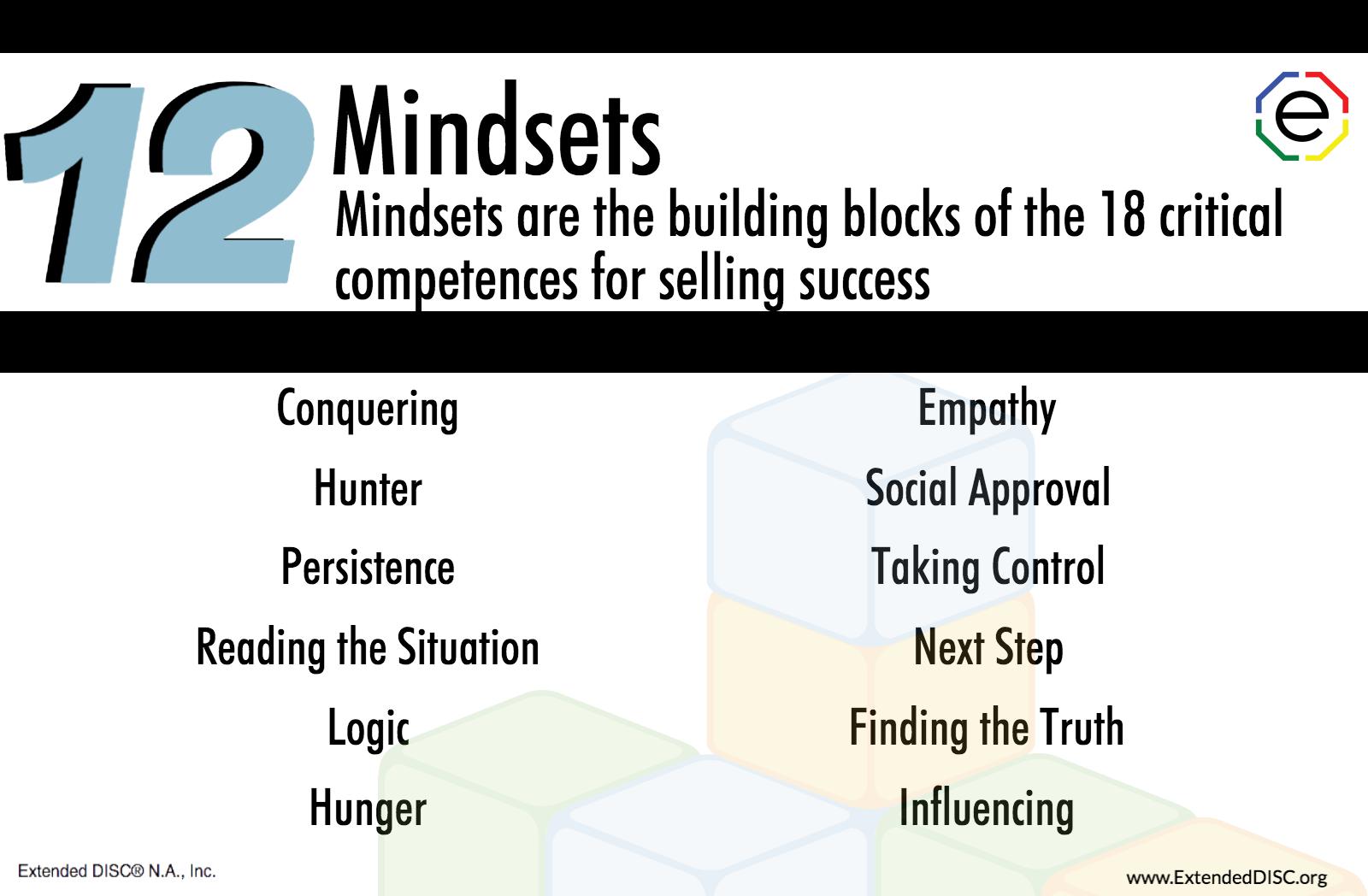 Each sales competence is made up of 1-3 Mindsets. The Mindsets for each of the 18 competences are used to clearly identify specific roadblocks to success in sales. They provide a clearer picture of what the person's challenges are for each sales skill. They also help to develop a clear action plan to improve the sales skill by pinpointing self-defeating beliefs.
When competence and mindset scores are evaluated together, clear action steps can be developed. You can identify what sales competences are easier to develop and which ones may present greater challenges. We recommend a consult with a trained sales coach to interpret mindsets and their effects.
FinxS® Sales 18 Helps Identify the DNA of Sales Excellence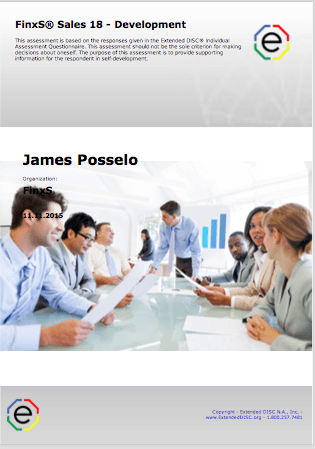 FinxS® Sales 18 is designed to clearly connect to the FinxS® Sales Competence Assessment. The report is a DISC based tool. The report is created when the person completes, or has completed, our DISC survey. The FinxS® Sales 18 report matches a person's DISC profile, natural behavioral style, to their current skill level for each of the 18 sales competences measured by the FinxS® Sales Competence Assessment.
The 18 sales skills are broken down into groups of related behaviors. There are 18 distinct pages; each sales skill has a group of specific behaviors. This allows users to clearly see a person's unique sales strengths and development areas.
Using the Sales 18 Results with the Sales Competence Results
In addition, the FinxS® Sales 18 report can identify if a person is performing better than their natural style predicts or if they are not using their full potential. For example, if the person has low Prospecting scores in skills and in the DISC style, then you can predict a lot of energy and work ahead to develop the person's Prospecting skills. In addition, the Mindsets can predict if the person's belief system is creating roadblocks and holding them back.
Alternatively, a person's prospecting skills score (Sales Competence Report) could be low, but they have a natural behavioral strength when it comes to prospecting (Sales 18 Report). The low score for the current skill level and the high score for DISC style tell us they should do well with prospecting. However, something in their belief system, or simply lack of skills, is holding them back.
You can create a concise action plan and predict sales success. You know what to focus energy and time on to truly develop a sales skill.
How Do You Get Started?
To learn how to help your clients or your sales team members become better at selling, or to view samples of our latest Sales Assessments, click on contact us or give us a call 1.281.298.6073. Don't wait!