Presently, many of us are being asked to change our habits.
If you've been watching the news lately you might have heard how these are uncertain times. Our world has never experienced anything quite like this. We are being asked to change our habits; our way of life. We're being asked to work in different ways. Working parents are also being asked to homeschool. How do we handle these changes in our lives? It may not surprise you that we all respond to change and stress differently.
Don't shelf your DISC training now!
During times of uncertainty we may become overwhelmed and our priorities may shift. Oftentimes, I've seen training as an area that slows down. I urge you, don't stop DISC training now! Extended DISC can become your most valuable tool while facing the unknown. Extended DISC provides insights to how each style reacts to change and pressure situations, what causes them stress, and how to help alleviate stress. Having this awareness can help us ensure our strengths are not working against us.
We've all seen different responses to the pandemic we are facing. We all have our own stories and personal struggles. This is impacting everyone. How we feel the impact is different and how we respond is also different.
How do DISC styles respond to pressure situations?
We, at Extended DISC, say "we become more of who we are under pressure". Extended DISC® assessments provide us with our Natural Style and an understanding of who we are. The report provides a specific section on how you respond to pressure situations, based on the relationship you have with the 4 DISC styles. They are not a generic list; but unique to each individual.
Understanding how you, and others, react to pressure situations can make it easier to deal with them. Facing the unknown can definitely be considered a pressure situation. So, how do the DISC styles respond to pressure situations?
DISC Styles and Pressure Situations
D-styles are task-oriented and active. D-styles enjoy challenges, like change, and want to have control. Under pressure, they become more of who they are and they focus more on task. They appear to other styles as though they are insensitive and have a lack of concern for others. They have a tendency to overlook how their actions and behaviors affect others. The pandemic may be challenging their sense of control.
I-styles are people-oriented and active. Simply put, I-styles enjoy being around others. Under pressure I-styles focus even more on people and tend to overlook details and tasks. They appear disorganized to other styles. I-styles are need viable options for dealing with social distancing such as virtual meetings and phone calls.
S-styles are people-oriented and reserved. S-styles prefer to have a stable and secure environment. Under pressure they may try to accommodate as many people as possible. They are the team players of the styles; people we can trust and depend on.
C-styles are task-oriented and reserved. C-styles prefer to focus on details, quality and precision. They enjoy and excel at being an expert. Under pressure they want to make sure things continue to be done correctly. C-styles are probably watching and reading a lot of current news to try to understand every detail about the situation.
Using DISC to better understand ourselves and our colleagues
Our reactions to pressure situations oftentimes is the most vulnerable page in the report. Allow me make it personal for a moment and share a few of the bullets listed in my report. By the way, I'm an SCI style.
wants things to remain the same
is slow to accept changes
is afraid to adjust to a new situation
takes the safest path
is overly cautious
Imagine knowing this information about our colleagues and how valuable it could be in managing them, interacting with them, or simply understanding how they may be affected by the pandemic.
Pressure situations and the unknown can also cause stress.
These are stressful times for everyone. Many of us are being asked to work remotely. Parents are being asked to homeschool their children. Some of us are being asked to shelter in place. Some of us may work in jobs that place us in a higher risk category. Or, we may be at a higher risk because of our age or health condition. We are all encouraged to apply social distancing. How do we identify signs of stress in others and how can we help alleviate it? Take a look at the graphic below.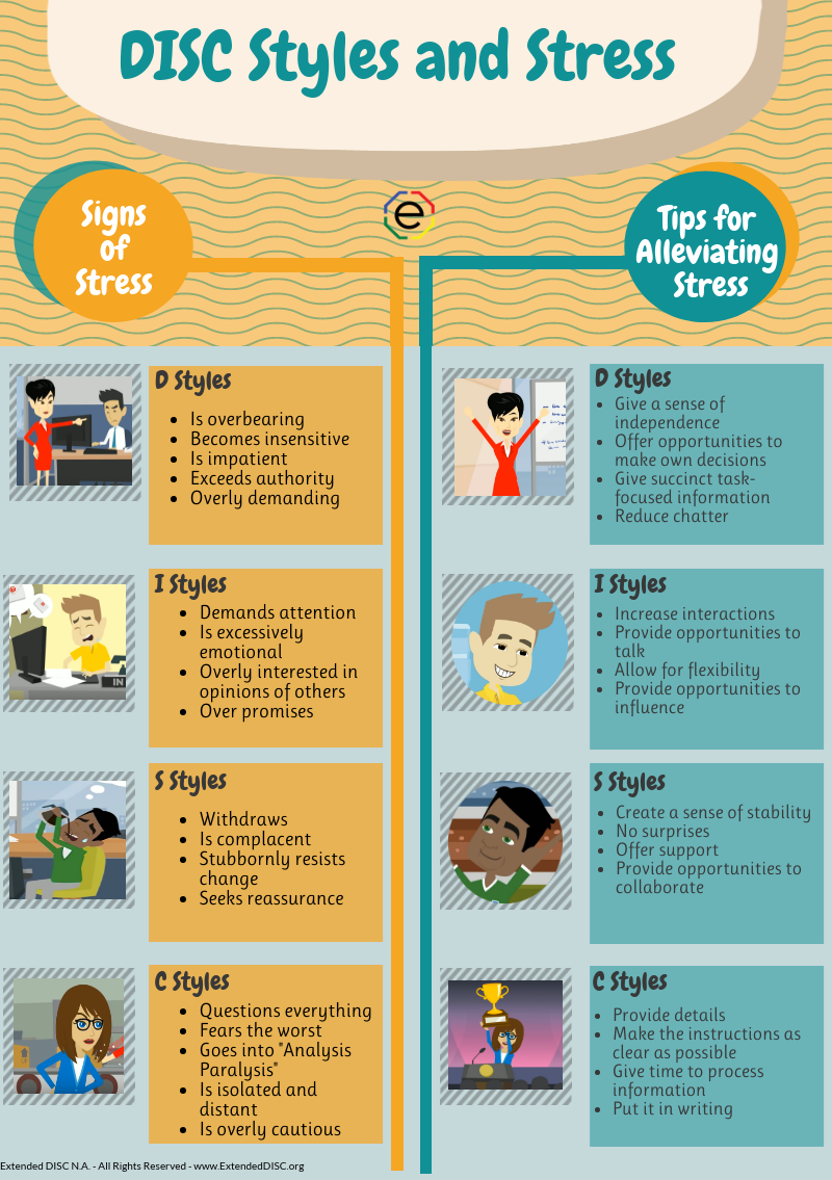 What signs of stress have you seen in yourself and others? What actions have you taken to help alleviate it?
My own story
Here's some of my personal story. I'm a working mom, now faced with the additional responsibility of homeschooling. My husband works in the aviation industry and continues to report to work at an International airport. Let's not forget, I am an SCI style who prefers a stable environment. So, how am I managing? Well, I've created a routine. I try and make our day as "normal" as possible. I focus on the extra time my son has with me (and my husband since he works a second shift). I try and enjoy these precious moments considering my son is at an age where he prefers to be with his friends. I get outside and exercise (easier to do since I live in a warm climate). I follow the news closely, and yes, I have strong opinions and criticize certain things; but I only share those with my husband. After all, I am a more reserved, private style.
What's your story? How has DISC helped you manage?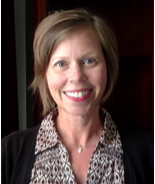 Author: Amy Lapinskie, Senior Trainer