Every elf wants to be part of Santa's team, so how did these elves stand out?
There are many toys that need to be made and readied for the Christmas season. Elves all across the North Pole apply annually for the honor of being a Santa elf. This year, Dana, Ian, Carlo, and Sally made the cut. Let's see how they did!
Dana, the D-style elf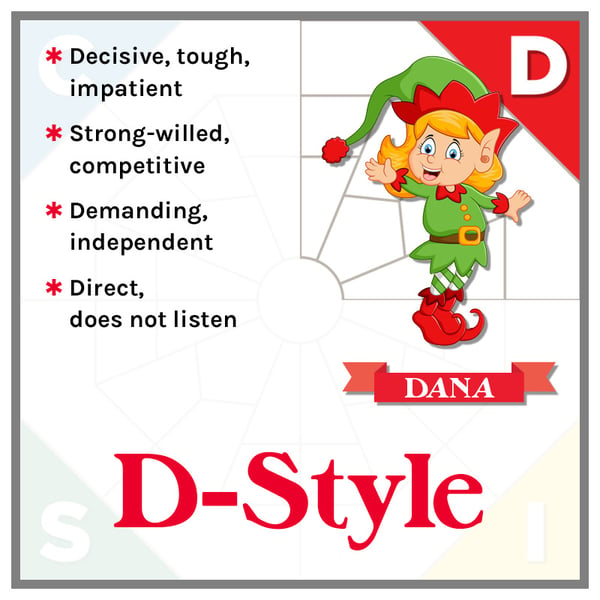 First day on the job, Dana is ready to crank out those toys and get them on Santa's sleigh. She introduces herself to the team by saying, "I know what needs to get done!" She grabs a hammer and starts making toys. The major downside is Dana isn't a trained toy maker. Needless to say, after a few failed attempts she was ready to move on to another project. She sees a group of elves working on trains and rushes over to say, "I have a faster and better way to crank out those trains!" While she had a great idea, let's just say her approach was not well received. Undeterred, Dana said, "what next?!"
The Chief Elf recognized Dana and her D-style tendencies. Luckily, with endless years of experience, she knew exactly what to do. "Dana! Come over here! I have the top project for you to take charge of! She hands Dana the sledgehammer and says, "this group is looking for a leader!" Dana is getting excited now! The Chief Elf says, "You need to lead your team to destroy all of these broken toys faster than the group over there. Can you take on the challenge?" Elf Dana is ready for action!
Ian, the I-style Elf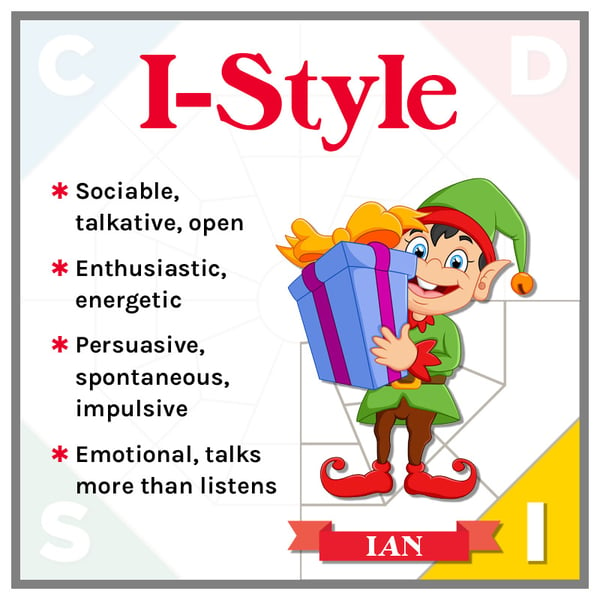 Ian, impulsively applied to be a Santa's helper and is overjoyed to be picked. He has already told every elf he knows and also, every elf he met on his way to his new job! He gets a little lost and forgot his name tag, but he's ready to go and knows it's going to be so much fun! During orientation, Ian gets a little sidetracked looking at all the sparkly new toys and gets in trouble for distracting other elves.
Chief Elf recognizes Ian's I-style tendencies and summons him over, "Ian, have I got the perfect job for you! You will be amazing and everyone will love you!" Ian is overflowing with excitement! Chief Elf sends him over to the Final Toy Review Department. In his new role, Ian interacts with all the toy departments to learn about their unique toys. Then, he uses his natural communication strengths to promote the toys to the Executive Toy Selection Committee. Everyone is always excited to see him, in hopes he falls in love with their toys. He's especially good at selling the toys he likes and gets everyone to be positive about the results. Every day is a fun new day!
Sally, the S-style elf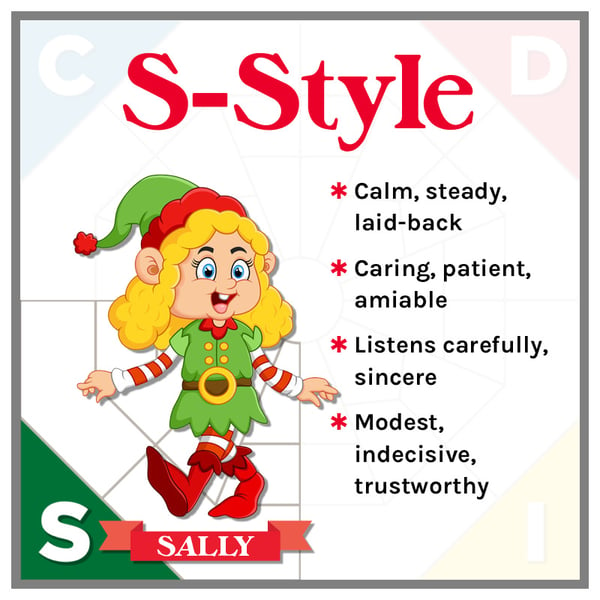 This was going to be a big change for Sally and she really needed the encouragement from her family and friends. She carefully planned her schedule; giving herself enough time to prepare and get dressed in her new outfit. On the outside, she looked calm and steady, but she was nervous! Luckily, her orientation group was small and she was able to spend time getting to know her fellow elves. She felt reassured that the Chief Elf spent time with her and gave her clear instructions and support.
Chief Elf told Sally, "I can see you are someone who listens carefully and calmly. When you feel ready, let's head over to the Elf Support Department." Sally spent a considerable amount of time training to be a Elf Stress Hotline operator. When she was ready, alongside her mentor, she helped elves who felt overwhelmed with the toy production. Her calm, caring, and patient manner made her a modest, but appreciated standout.
Carlo, the C-style elf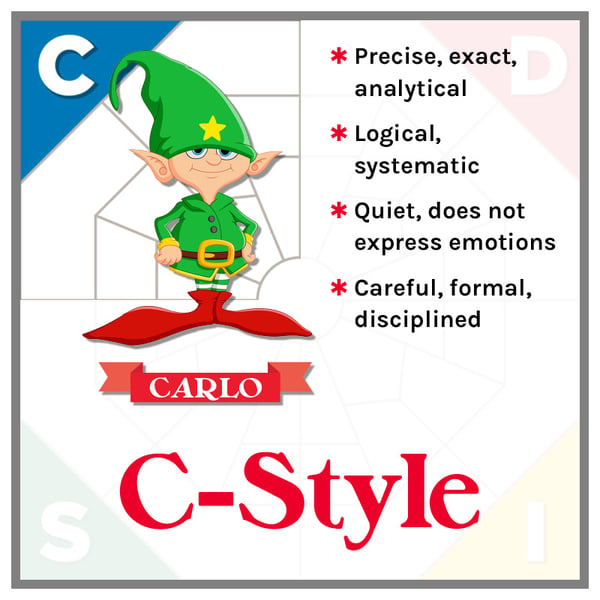 Carlo stood quietly in the back of the orientation group. He had a notepad and wrote everything down he could; which proved more difficult while holding his Toy Shop manual. Carlo seemed a bit overwhelmed at the amount of toy production going on around him. However, he did stop the group by raising his hand and saying, "I noticed the elf over there chewing gum, but page 268, section 4-b of the manual states 'gum chewing is not allowed while working'."
The Chief Elf recognizes the C-style tendencies of Carlo and motions him over, "Carlo, I have a job I think you will appreciate. Here is the job description; take your time reviewing it, and when you're ready, let me know if that works for you." A few days later, Carlo is ready to start his role as a Quality Control Toy Inspector. He knows how each toy is to be correctly made. In fact, his fellow elves would often seek him out when they had a problem getting the toy to work properly. Carlo is a happy elf to have found his routine and calling!
Santa's newest elves are lucky to have found a Chief Elf who understands how to use the strengths of their styles. The toy shop is buzzing along and soon it will be time for Santa to deliver the toys to the world's children. Happy holidays!