Happy Halloween! Here's a fun way to practice identifying DISC styles using our furry, four-legged, animal friends!
Halloween is upon us! We dress up to attend costume parties or hand out treats. Our kids transform into super heroes, witches, wizards, or pumpkins. Our whole family may join in, including our pooches. Let's look at DISC using our trick-or-treating pups!
Deuce: your D-style pooch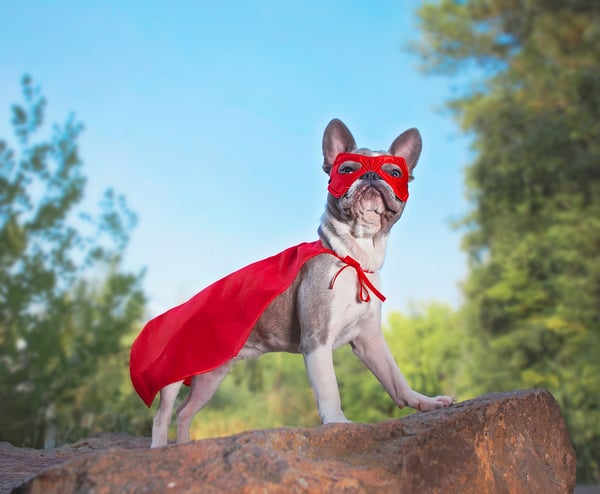 Your costume is large and in charge so superheroes like Wonder Woman, Batman, and Ironman are a top pick. However, the purpose of the costume is clearly to get to the endpoint; maximize treat collection. You must be able to garner the largest amounts possible. You're laser focused on how many goodies you haul in. Is your trick-or-treat bucket big enough? Do you need a wagon? You may be antsy to get started and rush your family through dinner so you can get out there and get ahead of the competition! You hurry to each house, forgetting to wait. At the door you let out a decisive and commanding bark, human speak for "trick or treat!" Drop that treat into the bucket, and off you run to the next house.
At the end of the night, you lay out your haul to make sure everyone can appreciate your haul and also to show you have more treats than any other dog. Yep, it's another Halloween accomplished!
Indy: your I-style pooch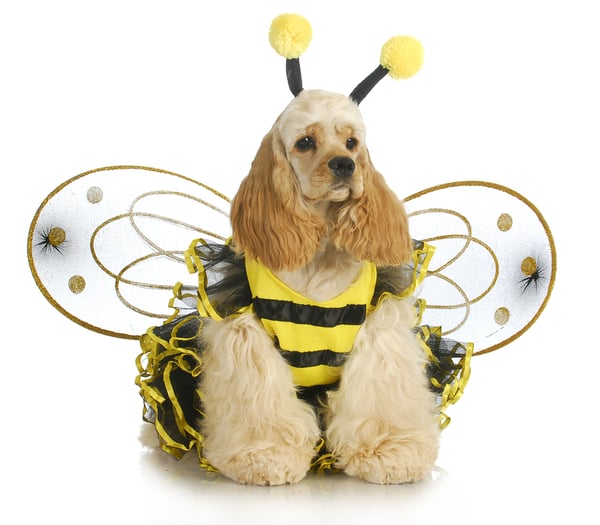 Your over-the-top costume is bright and sparkly like you; designed to be noticed! You love Halloween because it's your chance to shine even more and meet old and new friends! It's about running around and socializing with your neighborhood pals. The chaos is exciting and fun! You may even forget to get your treats, but it doesn't matter because you're having so much fun! You're barking and yipping with as many dogs as possible. Heck, you're even playing with the friendlier neighborhood cats. How many opportunities do you get to run around the neighborhood instead of cooped up with only one grouchy cat to play with? You're even happy to have your picture taken, hoping it will be posted on social media for lots of likes!
Back home, you realize you forgot to actually trick-or-treat and get candy. No problem! You just need to turn up your charm and expressiveness to get candy from your family. Of course, it works! Halloween is for the dogs!
Sammy: your S-style pooch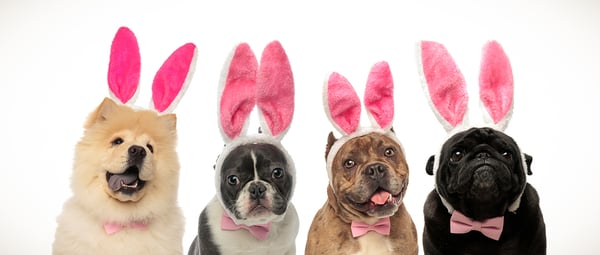 Halloween can be a little intimidating if it weren't for your neighborhood buddies and siblings. You're happy because it does mean you get to hang with your close-knit pack. You tend to avoid the flashy costumes that make you stand out in a crowd. Happily, in years past, your loyal pals usually come together with matching costumes. You've dressed up as Crayola Crayons, M&Ms, and matching witches. This year, you pooches went a little more out of your comfort zone and dressed up as different characters from Star Wars.
Halloween may be for the dogs, but your group sticks together and tends to go the same familiar houses each year. You all bark together to announce your arrival, use your most amiable and polite dog speak, and wait patiently in line for your turn. You never forget to bark your thanks and wait for your whole pack to finish up before heading to the next house.
When you are all done trick-or-treating you and your pals head home together to empty out your haul. Everyone is checking to make sure everyone got equal amounts. You even share some of your haul with Indy because she was so busy socializing, she forgot to trick-or-treat!
Charlie: your C-style pooch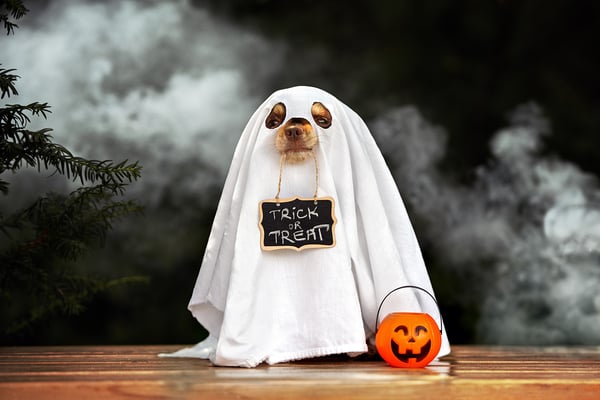 Halloween isn't really your thing. You shudder at all the chaos and mayhem. It tends to be loud; dogs barking everywhere. Horrors, they cross the street without looking both ways, and they run across the lawn instead of using the sidewalk! Your family celebrates Halloween, so you must follow the tradition too. However, you're going to do it the correct way. You pull out the same ghost costume you've always used because it is tried and tested. The holes are cut meticulously to give you the perfect nighttime vision. You've attached reflectors on the front and back side because you can never be too careful. The mouth opening is designed so you can easily hold your "trick-or-treat" sign. This is very important because it allows you to avoid too much chit chat; your part in the interaction is all written out.
After going to the predetermined houses, you arrive safely home. You put away your costume for next year. Now, you find a quiet place to sort your treats. Should you sort them by size, color, type of treat, or better yet, by all of the categories? It takes a long time, but you look at your groupings with a high degree of satisfaction. Once again, Halloween has met your high standards. It's time to start planning for next year.
Happy Halloween!