Recently, Extended DISC mentors participated in the Focus Forward Fellowship Program at Colorado State University. The program provides military-connected women with an opportunity to build skills and become better leaders.
Student Fellows go through an intensive program that focuses on finding peer support and developing new skills. In addition, these female veterans and military-connected women come together to bond and create a sense of community. Wilma Stephens, Executive Coach and Extended DISC Senior Trainer, volunteered as a Focus Forward Fellowship corporate mentor and DISC workshop trainer.
How the Focus Forward Fellowship Program Began
"MFRI is a nationally-recognized organization that conducts research and engages in outreach on issues that affect military and veteran families while working to shape policies, programs and practices that improve their well-being. To achieve this, MFRI collaborates to create meaningful solutions with them. Focus Forward Fellowship is one such effort. Founded in 2000, MFRI has been funded by Lilly Endowment Inc., the Department of Defense, and other organizations. It is part of the Department of Human Development and Family Studies in Purdue's College of Health and Human Sciences."
Linda Hughes-Kirchubel
Director of External Relations
Military Family Research Institute at Purdue University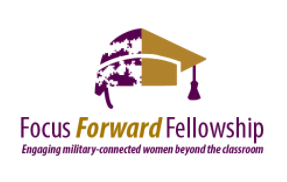 The Focus Forward Fellowship Program
Fellowship is a four-day residency program for military-connected college students. Fellows are selected for this program. MFRI and other sponsors cover the cost. The Fellowship program selects applicants from a highly competitive nation-wide pool. Military-related women learn skills to succeed as students, employees, and leaders. In addition, they meet other military-related women to build camaraderie and support.
Who Becomes a Focus Forward Fellow?
This time MFRI choose 11 amazing Colorado State University (CSU) Fellows from a highly select group of Colorado state applicants. Each Fellow brought her unique views, diverse background, and various experiences. All Fellows must be attending higher institutions in their second year or higher. Criteria must include current active duty, past duty, or having a military spouse. All Fellows must meet a grade point average of 2.9 or higher. This group was quite varied, ranging from undergrads to PhD students. Each of the Fellows had diverse military paths as well.
Students' goals included improving their problem-solving skills, and identifying strategies and resources to achieve more success. In addition, Fellows learned to develop steps and plans to foster their academic and career goals. The program itself begins with prep work prior to the program and follow up after the Fellowship program.
Clearly, this was a delightful experience for all of us, as mentors, because we are passionate about helping people. As a DISC trainer and coach, I focused on building self-awareness and improving communication skills.
Using DISC in the Focus Forward Fellowship Program
These women were up for the task and quickly embraced the 4 Steps to Effective Communication. As we progressed through the morning, many ah ha moments emerged. The group identified how easy it was to overuse our personal strengths. Fellows also identified times they overuse a strength which turned into a weakness. It was one of their biggest takeaways. They also learned to identify the DISC styles of others. They practiced identifying the DISC styles of the people that they interfaced with. The group's excitement brought up the volume and energy of the room.
After focusing on DISC in the jam-packed morning session, we went on to practice interviewing skills and resume creation. All of the sessions ended with thoughtful questions and time for reflection. At the end of the day the Fellows presented each mentor with a Military Challenge Coin. This long standing military tradition dates back to the early 1900's. I felt honored with the gift and the chance to work with this amazing group. The Fellows also read a passage that explains the coin's meaning.
Meaning of the Military Challenge Coin
"Challenge coins date back to World War 1 when a lieutenant ordered bronze coins for the men in his squadron. One of the men, who kept the coin in a leather pouch around his neck, was captured by the Germans. The Germans took everything from him except the leather pouch. When he later escaped, he avoided execution by the French when they recognized the unit insignia on the coin. It then became tradition for military members to carry challenge coins.

Today, challenge coins are significant throughout all branches of the military, and most military members have at least one coin in their possession at all times. The challenge coin is used for a variety of reasons, from recognition to morale. Military members carry the challenge coin to display pride and to ensure they are always ready when a coin challenge is initiated by another member of their unit.

Consistent with this military tradition, The Military Family Research Institute at Purdue University is honoring each of our Mentors by presenting them with a unique challenge coin. On one side the Purdue University logo and on the other a picture of the United States flag and the flag of the branches of service with the words "Ever Grateful – Ever True." You are now an honorary Purdue Boilermaker!"
Author unknown
Final Thoughts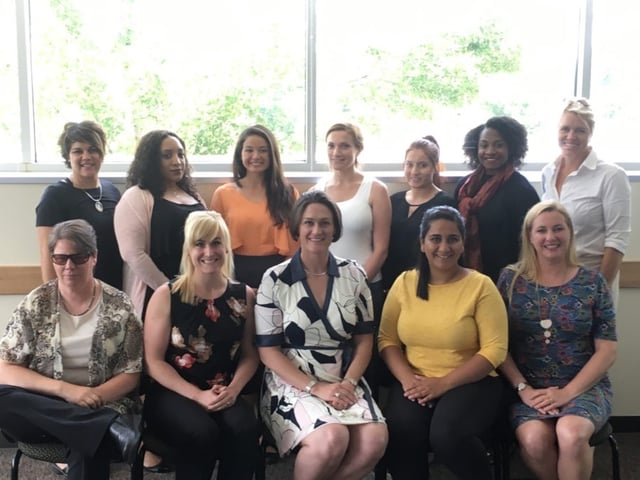 These Fellows have all sacrificed and bravely served our country in many ways. These women found the motivation and commitment to develop their life skills that will take them even further in life. We, at Extended DISC, would like to send best wishes to the Fellows and the military community for their continued success and thank them for sharing this special time with us.
"I wanted to reach back out to you and your team and thank you for supporting the Colorado cohort of the Focus Forward Fellowship. Wilma was great!"
Lauren A. Runco, M.S.
Director of Education and Employment
Military Family Research Institute at Purdue University