Recently, I traveled to Singapore to conduct a two-day DISC certification. I love doing DISC trainings and talking about DISC profiles, but add travel and food to the agenda and I'm in total heaven!
If you're wondering..."how can you relate DISC profiles to travelling and eating in Singapore," just bear with me and I'll explain.
I'm always looking for the best places to get a great meal. Hawker centers in Singapore are semi-enclosed buildings that house an overwhelming array of food stalls. They are loud and crowded, but the food is cheap and sometimes amazing. So, in the potentially hundreds of food stalls, how do you pick the one to eat at? My free tip is to look for the food stalls with a line. The longer the line the better the food. Singaporeans know their food.
Hawker Chen's Hong Kong Soya Sauce Chicken Rice and Noodle in Chinatown was one of the first and best I tried. His food stand was already on my radar because it was one of first ever hawker stalls awarded a prestigious Michelin Star. The Michelin Guide is an annually published guide to the best restaurants in the world. However, the ratings are normally given to fancy and expensive gourmet restaurants; definitely never before to food stalls!
The line was long, but for a plate of delicious soy sauce chicken and rice, costing only $1.50 U.S, it's totally worth it. I ate a memorable meal for next to nothing, and I got to people watch and chat with others in line. I had also noticed hawker Chen's cashier was working in D-style mode. She had a no-nonsense approach that was definitely task-oriented, fast-paced, and perfect for the job. Do not even try to chit-chat with her or waste her time!
Hawker Center Dining for Reserved DISC Styles
Even during my food extravaganza, there were things that still stood out to me from a DISC perspective. Sorry, I'm a DISC trainer so I can't help myself. First off, if you're a more reserved DISC profile, then you may want to avoid the crowded communal dining. If you can't because you really want to try the food, there's actually an area for you to eat in solitude. You can go at off-peak times or find yourself a small table facing a wall, and you are good to go!
You can also plan ahead by searching the internet for the best hawker stands before you travel. As a foodie traveler, you could map out all your food destinations and have a clear, well thought out itinerary of where to go and what to expect.
Hawker Centers for Active and Adventurous DISC Styles
If you love social interactions and taking risks in your food adventures, then this is the place for you. Communal tables and long lines allow you the opportunity to mingle with locals and travelers alike. Are you someone who loves making a definitive choice from endless options? Are you adventurous enough to try something new? Try the local favorites like Peranakan laksa or bah-kut-teh. Maybe you're an extreme risk taker and looking for the one food stall no one else has the guts to try. Do you want to take on the challenge to eat at each and every food stall in a hawker center? It's a overwhelming challenge, but come and try!
Once you've gotten your food, try finding a communal table and sit down. If you're looking to chat, then Singapore is a great place to strike up a conversation with a local or fellow tourism. In Signapore almost everyone speaks English! Ask what they're eating or ask for suggestions on other hawker centers for your next meal. You can even use your DISC profiles identifying skills to scout out others who are more likely to be social and chatty.
Food and Culture for all DISC Profiles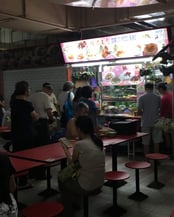 So, whether it's Singapore or any other country or region, take the time to try the local food when you travel. You can research ahead of time what kinds of foods sound interesting and worthy of your time. If mingling is not within your comfort zone, then order takeout or find a secluded spot. You can always go with family and friends to make the experience more fun and meaningful.
If you love trying new things, hawker centers offer up so many choices. Take a risk! If you can, join a communal table and experience more of the food and culture.
The key to being a foodie and a traveler is to learn there are all kinds of opportunities regardless of a person's DISC profile!
To learn more about DISC Profiles, please visit our website.