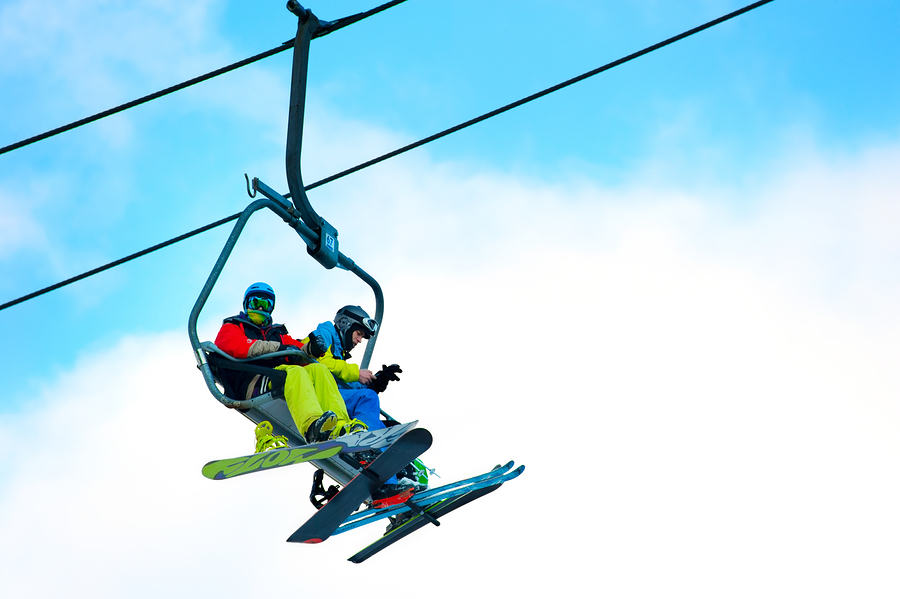 Skiing was a big part of my childhood. I have great memories of spending time on the slopes with my family. While skiing is typically viewed as an individual sport, it is also happens to be a great family activity. Not only do you often ski together, but you also have time for uninterrupted conversations on the chairlifts. No smartphones, just the opportunity to have quality time with your most important people. Remembering these happy memories, I decided to take my kids skiing for the very first time. On the first day, to make sure they would be off to a great start, I decided to hire a ski instructor. While I consider myself a pretty good skier, I know my credibility is embarrassingly low in the eyes of my children. I'm sure this is common, as parents of teenagers and pre-teens; they just do not listen to us. I knew that a cool 19-year-old college kid's guidance would be better received and have a lot more impact than any expert and experienced advice I could impart.
As I was booking the lesson, I remembered that my friend, John Glennon of Sandler Training, uses Extended DISC to train ski instructors at ski resorts. He doesn't use Extended DISC as a method to become a better skier, but rather to become better ski instructors.
John worked with over 100 ski instructors at one large ski resort. He was brought in because the ski resort had identified that most of the first-time ski students did not sign up for any additional lessons. They took for the first lesson and never came back. The goal for the resort was to use the first lesson to generate more class registration and revenue. Obviously, this meant the resort was losing a significant amount of potential income. Interestingly, this is a fairly common occurrence in North America while in Europe students tend to return, wanting to learn more.
As is usually the case, the instructors included a wide range of skiing enthusiasts, from 18-year-old kids to retired professionals. All of them were great skiers, but not all were expert or trained communicators. Rapport and interaction, for most people to have a great class experience, is just as important as the learning of the technical skills. Consequently, the exchanges between the instructors and students were not as effective and enjoyable as they could have been to warrant the customer's desire to pursue additional lessons.
John used Extended DISC as the cornerstone of the training. The training concentrated on how to use the model to communicate and interact more effectively with the students. The aim was to improve the lesson experience for all students because it would help to achieve the ultimate goal of generating additional lesson sign-ups.
While John realized solving the issue would require everyone's involvement, he wanted to focus on the ski instructors first. He worked with them to create a better self-awareness of their own behavioral tendencies and style. For example, the sociable I-style instructors spent a lot of time chatting so often tended run late for the next lesson. While these instructors saw it as an inconsequential issue, it did not set a good tone to start the new lesson and sometimes made it impossible to capture repeat business.
More significantly, John helped the ski instructors understand that they easily bonded with the students who shared their DISC-style, but were not as comfortable and successful with differing DISC styles. The students with different DISC-styles expressed dissatisfaction with class expectations and often times, disappointment in connecting with their ski instructors. To make matters worse, instructors naturally and unconsciously sensed the tension and gravitated more to the preferred students. This further worsened the situation. All students learned basic ski skills, but some were not completely satisfied and even unhappy. The ski instructors were left exhausted or with a feeling they could have done better after the lessons. In short, the lesson experience was not optimal and could be improved.
John developed simple, yet brilliant guidelines and rules. The ski instructors had to work on building a bond with all students. The instructors acknowledged there were easy and comfortable interactions and ones requiring energy, effort and practice. They also learned a few simple and effective ways to identify the students' DISC-styles. More importantly, John helped them learn and practice skills to modify their communication style to better connect with all students. Initially, it took more effort, but soon it became a lot easier and almost second nature.
One of the most effective ways to ensure bonding with every student is to require the instructors ride the chair lift with all of their students. Let me assure you, if you have never ridden a chair lift, you have – and you are – a captive audience. This pushed the ski instructors out of their comfort zones to practice and improve their communication skills throughout the entire lesson.
After coaching the ski instructors, John focused and adapted the training for the class reservation agents. They learned to ask specific questions and to actively listen for clues to identify students' DISC-styles. They placed the students with similar DISC-style ski instructors. This made the ski instructors' work a little easier. They did not have to adjust their style quite as much and the chairlift ride up was easier right from the start.
How about the results? Ultimately, the ski resort did not measure improvement in instructor teaching or the improved skills and satisfaction of students. However, their revenue from ski lessons increased 26% in year one, another 23% in year two and additional 28% in year three. That is an upward slope everyone likes to see.