A conversation with Stephanie Maultsby, Director of Continuing Education and Steven Wenzel, Coordinator for Corporate Training at McLennan Community College in Waco, Texas.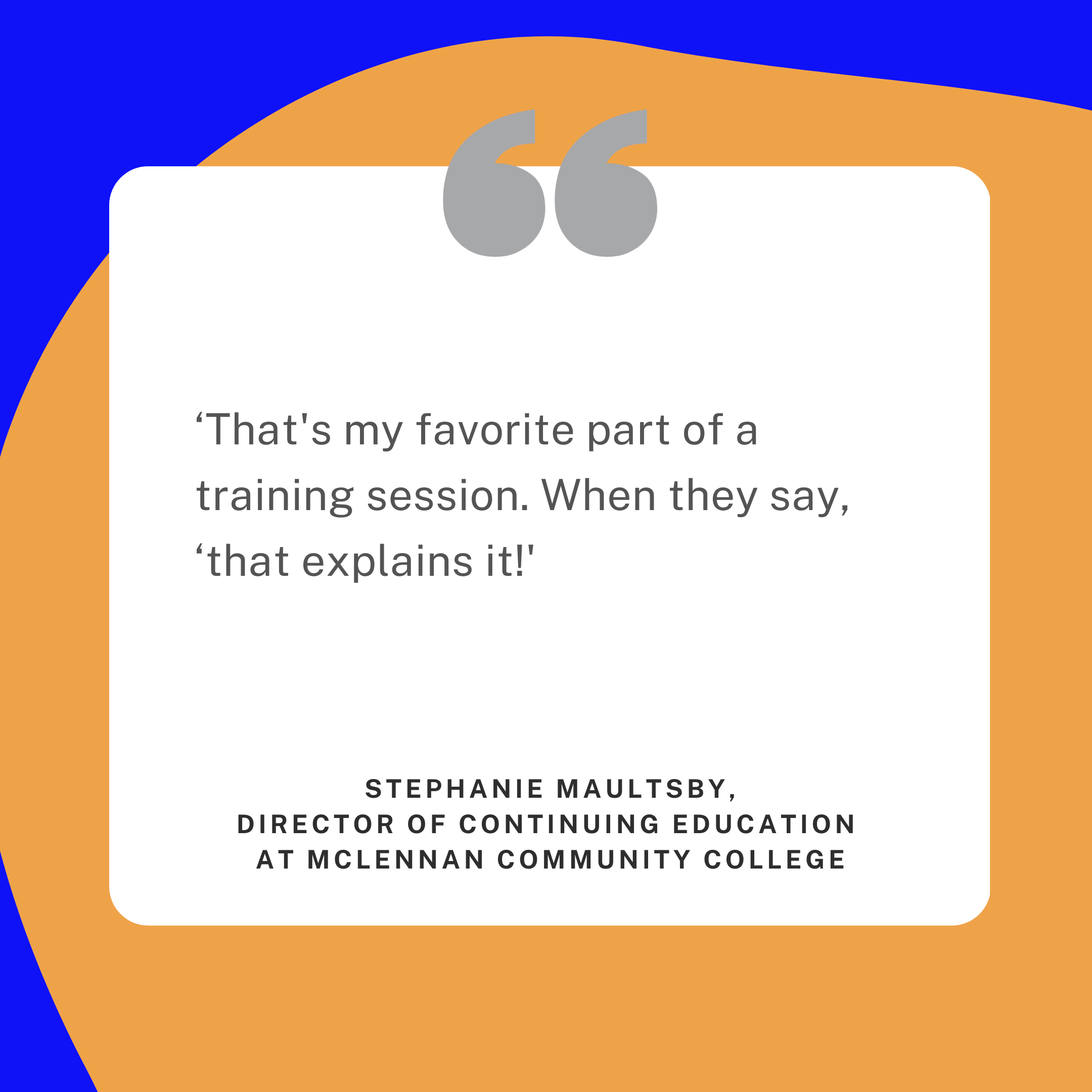 Extended DISC: I'm so happy you reached out to me! So, tell me about your role and about McLennan Community College.
Stephanie: McLennan Community College has an enrollment of around 7,500 right now. I'm the Director of Continuing Ed and I'm certified to deliver DISC to corporate clients. I tend to utilize more of the specialized reports like the Team and Leadership. The Team Report is fabulous! I use that one all the time.
Since my colleague, Steve, handles more DISC than I do, I'll let him tell a little bit more about that.
Steve: I am the Coordinator for Corporate Training under Continuing Ed. My role is to meet the training needs of our area businesses. We find out their training needs to provide direct support. However, for those times we don't provide those services, we'll find a qualified third party. We're not masters of everything, but we're masters of a lot!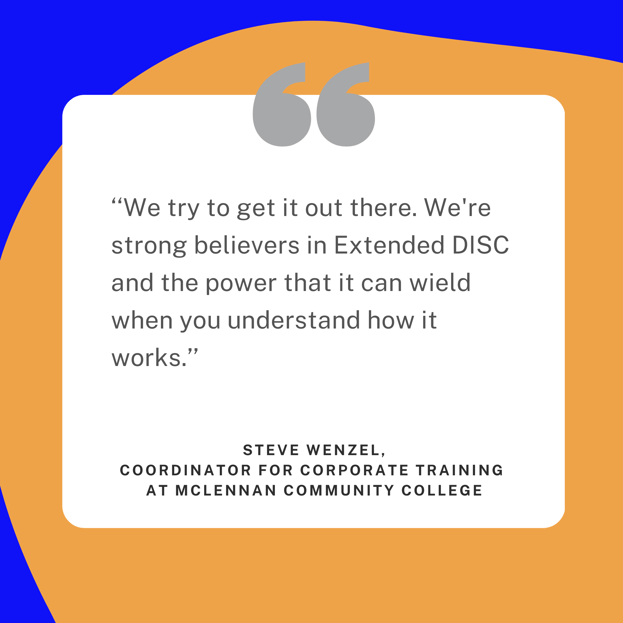 Extended DISC: You do amazing things! I didn't realize community colleges actively went out into the community to provide services and training!
Steve: It's funny, when I joined McLennan in '07, I didn't even know corporate training existed at the junior college level, but workforce training is what junior colleges were created for. Traditionally it was about short-term certificate-based training before community colleges became degreed institutions.
We do provide contract training where people just pay for it, but most of our training uses Texas workforce Commission Grants. Clients can get more training and services this way. We've received $14 million in grants since '09. We are very active in grants, especially for our school size. We've figured out what we do best, and we've centered ourselves around that kind of training.
As far as Extended DISC goes, I've always tried to offer it to my grant partners and my corporate clients. As you well know, it's a fun course - it's not dry. And when you take them through Extended DISC, the light bulb starts going off. They say, 'now I know why you're that way' or 'now I know why I always have to ask you that.'
Stephanie: That's my favorite part during a training session. When participants say, 'that explains it!'
Steve: We try to get it out there. We're strong believers in Extended DISC and the power that it can wield when you understand how it works. So, I've always tried to do that, but it is hard to include that in a grant. We're pitching it to the college to use DISC more internally. So far, we've done sessions for the IT department, Cosmetology, Nursing, and the Police Department.
Our college is made up primarily of S(-styles) and C(-styles) with a smattering of D(styles) and I(-styles) throughout. You'll know people who have been here 50 years and they're policy-driven people, who prefer to go more by the book. Everything, including decisions, require a focus on planning and time.
Extended DISC:
I love how DISC provides us with a clearer picture of who we are and is something we can all understand right away. It is a connecting language. When you say your college is primarily an S and C culture, it provides data on how to best interact and lead within the college.
Steve: Right! Most recently, with our college's support, we are now doing DISC as part of our new employee onboarding process. I facilitate a DISC session every month. I tell them they're coming into a college that's full of Ss and Cs and this is what you can expect.
We just hired a young lady in our department who is a DI style, and she may feel more frustrated getting used to the S-C process. She may think people aren't getting things done fast enough, but DISC hopefully helps her understand the behavioral differences and strengths of the team.
We buy into it and we're strong advocates of DISC. We look for opportunities to present it anytime we can.
Extended DISC: I love the diversity and effectiveness in which you offer DISC, internally and externally within your community. Stephanie, you mentioned conducting sessions on leadership and the team. Can you tell me more?
Stephanie: Every time I conduct any leadership training, DISC is always a part of it. You can't identify who you are as a leader without the level of understanding DISC provides. It helps you understand that you can't lead everybody the same. I rely heavily on the Leadership Report every time.
The Leadership Report provides them with specific behavioral traits in leadership and compares them to their natural DISC style. It helps participants have a clearer understanding of which leadership behaviors may come naturally and which ones may take some effort and energy.
I also try to include the Team Report to provide understanding about how to apply this knowledge within a team. We can explore the culture teams can take on and how best to lead teams using knowledge of DISC.
I'd like to have an opportunity to use the Sales Report, but I haven't been able to get it in front of a group of salesmen yet.
Extended DISC: I'm sure you will soon! And Steve, which reports do you typically use with your clients?
Steve: I typically use the Standard Individual Report. I don't get a lot of time with people and it's usually more of a general presentation. I have an hour and a half to two hours to capsulize DISC which is hard for me when I'm a talker and an I(-style)! Sometimes we will dive into more as needed, and occasionally the Work Pair comes up.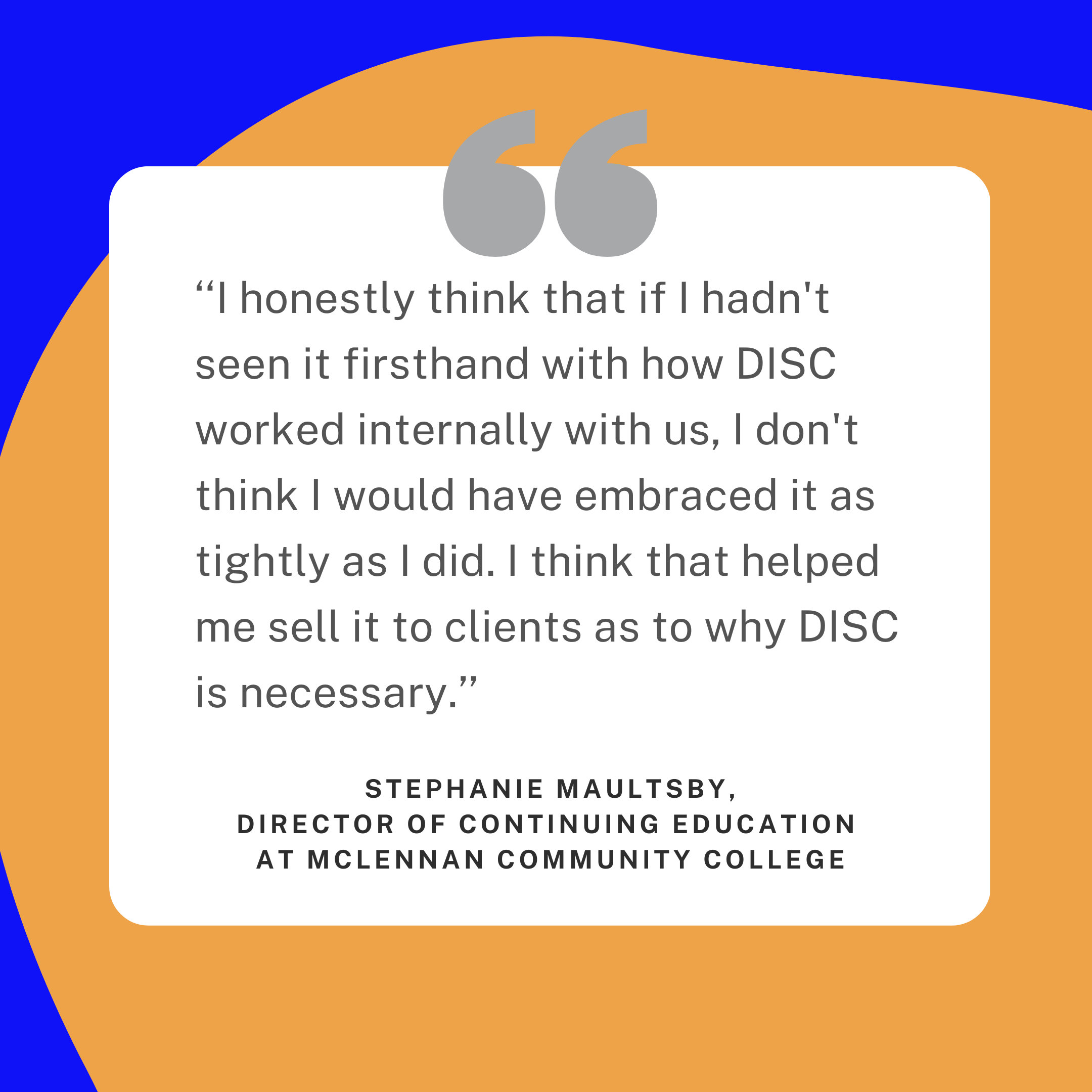 Extended DISC: As a DISC trainer, I believe you can never go wrong using the Individual Report. It has the core essentials to begin reflection and dialoguing a better understanding of yourself and others.
We do case studies to help our clients in similar settings as you so they can start stronger and feel motivated from hearing about your successes. What suggestions do you have for your peers in the industry when considering DISC?
Stephanie: It starts with you and your team. Steve and I always tell this story when we train DISC. I joined the Corporate Training Team in 2009 and we had the best work group I ever had the privilege of working with. It was me, Steve and our director, Danny. We were all different on the Extended DISC® Diamond.
Our small workgroup embraced the principles and philosophies of DISC. Our DISC training helped us be a well-oiled team. It helped us understand what we were good at, and what challenges we faced. We had no problems delegating our challenges. We were able to divide and conquer and within two years, we had over $3 million in grants because we embraced each other's strengths.
I honestly think that if I hadn't seen firsthand how DISC worked internally with us, I don't think I would have embraced it as tightly as I did. I think that helped me sell it to clients as to why DISC is necessary.
Steve: Another example is my DISC session with a local power company. All of them were comprised primarily of Ds and Cs. All these Cs make sense if you think about it - they're all working on high voltage power lines, so you'd better get it right.
We gave them an activity where we put them in four corners of the room based on their primary styles. The Ds completed the exercise in 2 seconds. The Is never started – they were just visiting. The Ss were still discussing the idea and supporting one another with pats on the back. And the Cs had finished, but they were re-prioritizing and reorganizing. In the end, the Ds got upset and went around and finished everyone else's work. It was powerful to see how each of the style groups approached the activity and how they approach work. And that's a true story!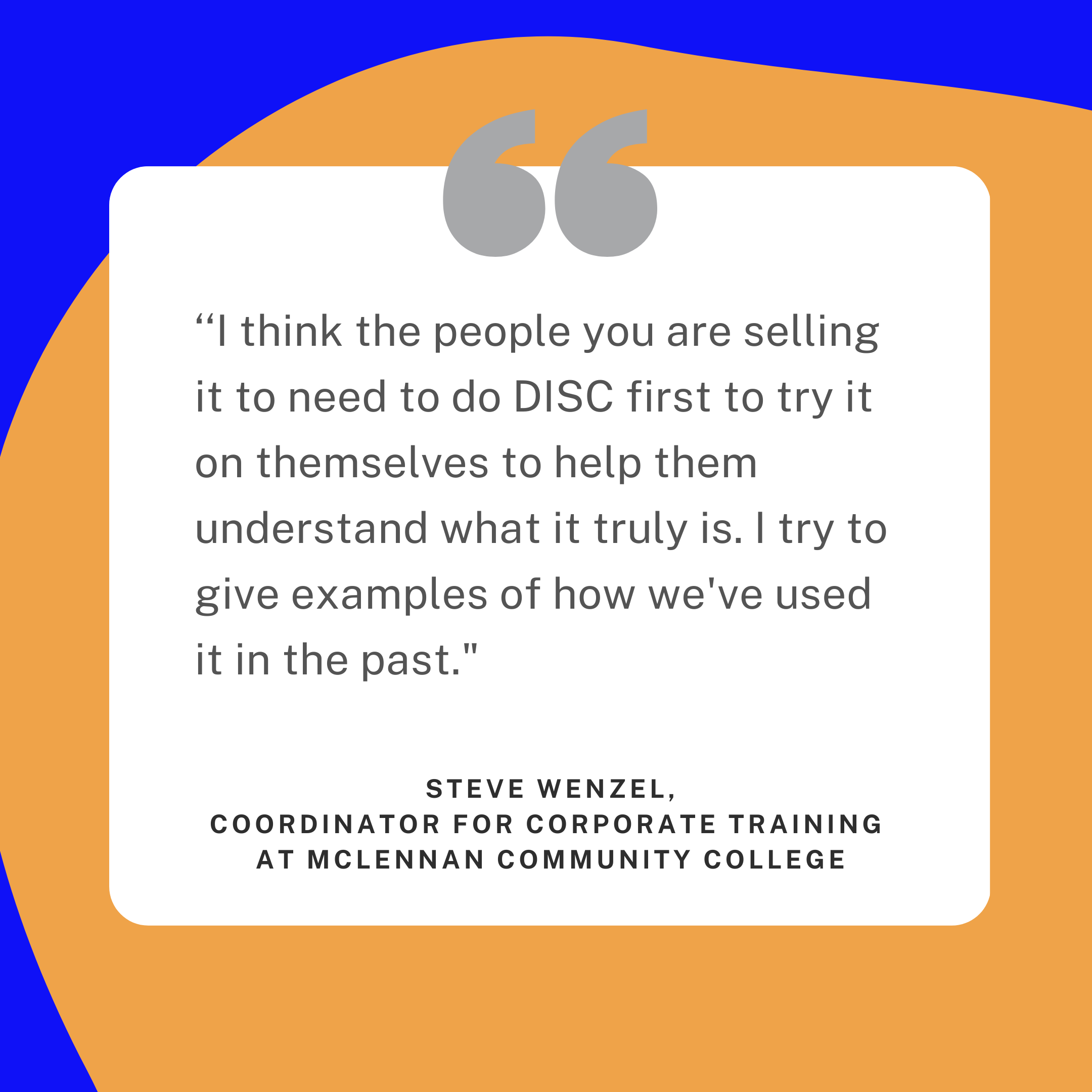 Extended DISC: I love all these examples of how DISC works for you and your clients!

Stephanie: Another example is a few years back, our local hospital, Hillcrest Baptist Medical Center, was acquired by Scott and White Healthcare Systems. Within a year of the acquisition, Scott and White merged with Baylor to become Baylor, Scott, and White. You can only imagine the internal struggles that employees were having with all the changes and there were major trust issues between leadership and employees.

However, we were fortunate to be in a grant where I provided leadership DISC for all upper managers and C-Suite before the merger. Subsequently, they allowed us to take all 3000 hospital employees through DISC.

It was eye-opening for leadership to be able to see what their employees needed to effectively get through this change. And you know, health care is chock full of S(-styles) and we all know how much they like change. So, it was really helpful for managers to learn how to support their staff through these processes.

Extended DISC: That's a very powerful example. I just want to say - I love how the two of you interact – your conversations just flow and you're able to complete each other's sentences even though your styles are different!

Stephanie:

Thanks! We call each other out too! I am all task, and he is all people so when our stresses are high, I focused on tasks, and he calls me out of it, and we calm each other down.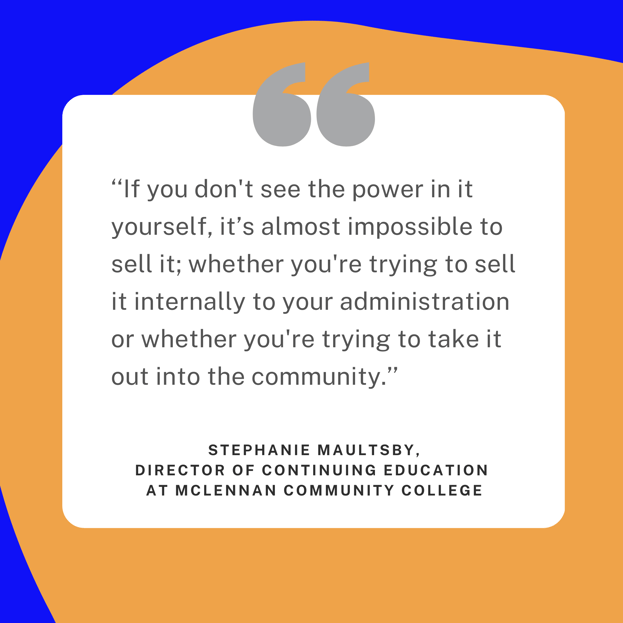 Extended DISC: Any final sharing of your experiences?
Stephanie: If you don't see the power in it yourself it's almost impossible to sell it; whether you're trying to sell it internally to your administration or whether you're trying to take it out into the community. I think you must take the assessment and learn about yourself, but you also have to apply it to your immediate work team, as we did. Then, you can see it its power and its ease.
Steve: I think if someone hasn't ever taken a communication style assessment before it's hard to sell it upfront. I think the people you are selling it to need to do DISC first to try it on themselves to help them understand what it truly is. I try to give examples of how we've used it in the past.
A main selling point is to help people recognize how much more they are doing now and with fewer people. People are expected to cross-train and with work different people. There are added pressures and changing situations. DISC can provide supportive information and feedback to handle these pressures and changes.
Extended DISC: It's a great reminder when promoting DISC that most people may need a tool like DISC, but they don't know to ask for it. They will come to us with a problem, and we can offer DISC as a tool to find solutions.
Steve: Absolutely! One last thought. I think supervisor training or introduction to leadership training is a growing need in the marketplace. We're getting calls all the time about wanting to do leadership training which we've never had before. So much so, that we need more instructors!
We're finding some peers are now promoted to supervisors. Yesterday, you were a coworker and friend, and now you're their boss. DISC can help those who may not know how to succeed in a leadership role.