After hiring your employee, don't overlook the onboarding benefits of DISC in supporting your new employee's success.
As managers, you recruited and hired the best person, but there's still something important to do. Don't let the momentum drop here. The first few months have a major impact on your new hire's long term success.
The next step in the journey is to create an effective onboarding experience. Give this step a lot of thought - it could give your new employee a stronger and more confident head start. So, why is the onboarding process important?
Onboarding opportunities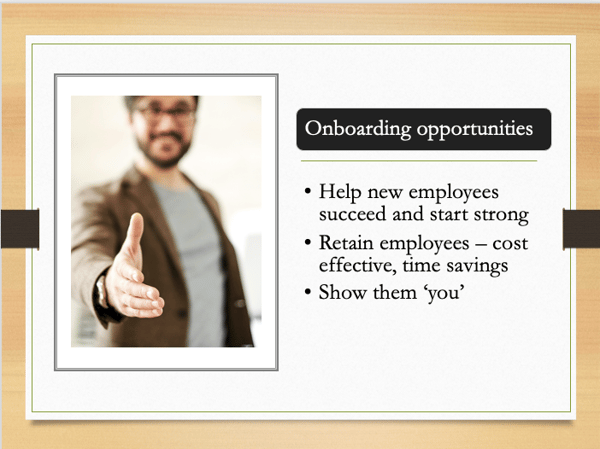 Onboarding sets the tone for your manager-employee relationship, team dynamics, and individual success. It provides your new employee with information and tools they need to better establish working relationships; hence, building stronger teams. They will be clearer and more confident on how to produce great work.

Successful onboarding helps you retain employees. Your new hire will feel more confident they made the best decision in accepting your job offer. If they don't, they'll be more likely to leave and you'll be back to square one. You know how frustrating, time consuming and expensive it is to have to restart the process.

Use onboarding to develop a relationship and build rapport. This is your opportunity to get to know each other better. Take the time to show them 'you'. It becomes a powerful way to establish rapport, build trust, and prevent miscommunication. So, how can DISC help?
How can DISC help?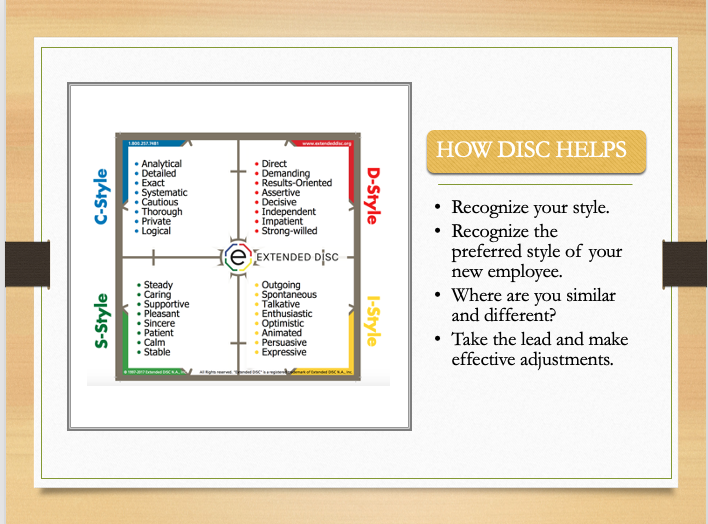 DISC provides insight into your own style. It starts with you; build stronger self-awareness of how you manage and how you prefer to interact. How do your employees view your manager style?
Next, apply DISC to recognize the preferred style of your new hire. You'll have more information on how to better lead and interact with them. You know what motivates them, what they may need to develop, and how to use the strengths of their style in their roles.
Understanding your style, while learning about their style predicts how you two interact. What behaviors are comfortable for both of you. For example, do you both like to talk? What's different in your behavioral preferences? Can your differences complement one another? What behaviors are not natural for either of you? For example, slowing down and avoiding mistakes.
Be prepared by using DISC data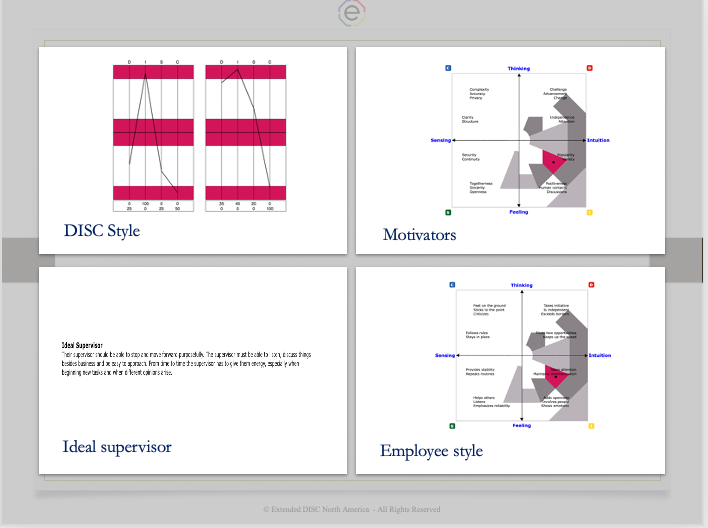 DISC provides data to help you lead and make effective adjustments to your own interactions. In addition, Extended DISC® reports are your dialoguing tools; providing talking points to discuss and understand each other better. Here are some tips for reviewing data to help you prepare for your onboarding session.
Start by reviewing your DISC styles. How similar or different is your style from your new hire?
Identify what tends to motivate your new hire.
Identify their behavioral strengths.
What skills and experiences may they need to develop or need support with?
What are the similarities or gaps existing between your styles?
How do you compare to their Ideal supervisor description?
Now that you've reviewed the data, you're ready to onboard more effectively.
DISC helps you know what adjustments to make
Remember, DISC data is not just a checklist. Rather, it's an opportunity to talk about how you and your new hire interact; how your styles may be similar or complementary. Here are some things you can refer to the data to discuss:
Discuss what you have in common.
Review motivators to identify which really energizes them right now. Ask them which motivators would be most impactful on their performance. Are there any deal breakers if a motivator isn't present?
Which of these motivators are a good match to their job functions?
Are there any adjustments to their roles to better match their motivators and strengths?
Discuss how they can utilize their behavioral strengths and where they may need more support and/or development.
How could you bridge gaps between your complementary styles?
Using DISC data helps to remove judgment; it's data. It doesn't not measure your attitudes, skills, experiences, or knowledge. It gives them a chance to know you better and build rapport. They are more likely to connect and respond when you adjust to their style preferences; especially since you have insight on how to adjust.